 From the Eyes of Superman…the Cat
by Kelly Quinlan
I am a full black cat named after a superhero called Superman. I think this superhero saves the world from danger, I think. I don't model myself after that. I don't even have a red cape on me. My main focus is making sure that I get fed, loved, and a soft place to sleep. I will make sure that mistress doesn't forget to feed me. When it comes to wanting attention, I will sprawl myself out right in front of her.
     Nine years ago, I was picked out by my mistress at the Humane Society. I think she wanted a cat that was going to be easy going. When she brought me to her domain, I had a feeling that things were going to be perfect. She showed me kindness, allowed me to be myself and vacuums me. When she turns it on for me, it sounds like a swarm of angry hornets. Yes, it's loud, yes, the sucking from the long tube is strong, but I ignore the intensity of it all just to get the excess fur off. I will lay on my right and then my left side; occasionally I will lay on my back and let the vacuum do its magic. And after it's all done, I feel content and clean. When she does not vacuum me for a while, I let my mistress know by curling up next to the vacuum, and eye her intently.
     When people come into my mistress' domain, I will walk up to that human and act all friendly and check them out. It's fun to know that there are humans around. I find them interesting because they are friendly. There's one such human named Jo B. She comes to help my mistress out. I get excited when she comes. She will pet me, scratch underneath my chin, rub my butt, which I love, and allows me to rub my cheek against her shoes.
      I also have a buddy named Furbie, who came into my life three years ago. He is also a cat like me. He's orange and white. We get along well with each other. We sleep with each other, play with one another, and groom each other too. The difference between us is that Furbie is not as relaxed as I am when it comes to people coming over. When the vacuum cleaner is on, Furbie will try to stay away from it, but there's no place to hide. Furbie has gotten use to Jo B coming often, which I am glad, because she is just friendly, and he is still skittish when the vacuum is turned on.
     But today was an off day for me! Jo B arrived at her usual time. I expected her to rub my butt and pet me, but did she do that? No! All she did was talk to my mistress! After they talked, my mistress grabbed her shoes and sat down to put them on. I wanted my mistress to pet me, but she just pushed me away every time I wanted attention. Fine, I thought, I'm going to go to my mistress's friend. I know she'll give me what I want!
     I went up to her and tried to get my master's friend to pet me, but she just moved out of the way. Why she did that was beyond me. By the third time I tried to get her to pet me, and rub my whiskered cheek against her thongs, she had moved out of the way. I found my cheek on the rough, dark gray lined carpet and not her thongs. I laid there for a moment, feeling confused. I just couldn't believe that my mistress's friend didn't give me what I wanted!
     I ended up feeling degraded when they laughed. Apparently, teasing me was fun! I picked myself up and moved away from my mistress friend, and curled into a ball. As I did this, they laughed even harder! What was so funny? Did they not understand that what I wanted was crucial? Nope! They did not! With that in mind, I made sure that my mistress friend didn't pet me for a while after that!
© 2016 Kelly Q. & Write Around Portland, from our 51st anthology, Light to the Edge
Interview with Featured Writer Kelly Quinlan
Interviewed by Neil Aitken, Write Around Portland volunteer facilitator.
Kelly Quinlan lives in Portland where she loves to write fiction and non-fiction. She enjoys reading middle-grade books because they are fun to read and loves to learn how to cook food. This past fall Kelly participated in our creative writing workshop with On-the-Move Community Integration, a small nonprofit supporting adults living with developmental disabilities.
How did you first hear about Write Around Portland?
A couple of years ago when I was at On-the-Move. I was on that day getting ready to go home and there was this big box of books that said Write Around Portland. And some of my friends were saying, "Oh yeah, you can get your stories published." [I said], "Hey, I want to join! When does this start? When can I do this?"
And so a couple of years later, here I am. You know, I got one of my stories published called "From the Eyes of Superman…the Cat."
So in addition to wanting to get published, what were some of the other reasons that drew you to being in the workshop?
The group. The people in the group I knew. I also wanted to hear their stories too.
Once you got into the workshop, what was your experience like?
Very interesting—learning how to write [in response to] prompts. I never really understood [what] that meant until I joined and actually started to learn how to do that.
Did you have particular things that you like about being in workshop?
That would be just writing. That's what I liked about it. I love writing. I spend long hours just writing and looking things up and stuff like that.
Before you were in workshop had you done something similar, or had you been mostly writing on your own?
Writing on my own, actually, and putting a book together for my dad.
Oh?
Because he really likes my stories, so I would write stories. I wrote a story about his banjo that he used to have for a very long time, and he just…he loves that thing. And so I was like, "Hey Dad, I'm writing about this. Give me some detail!" And he did. And with Mom…with also Mom's help. And so I sent it to him and he's like, "Aw, thank you!"
What did you feel were the big differences once you were writing in the workshop environment instead of just writing for yourself or your family?
It was really interesting—knowing that there is a community out there that does that for people. I decided that it was really unique to come here and have that experience. And knowing what the actual word "anthology" actually means because I never really understood what that meant.
How did you feel once you had something published in a book, in an anthology?
Well, I just felt like that was a dream come true because I've always wanted to have something published. I'm just going to give myself a pat on the back [for] coming here and learning what a writing workshop is like. I'm going to be coming back next year.
So your story gets published in the anthology and you got the opportunity to read as well for the anthology release party. Could you tell me a little more about that? How did it feel to be up there, reading your work, sharing it with this large crowd?
That was really nerve-wracking. I really wasn't quite sure if my voice was going to come out strong enough or if I…or making sure if I made it interesting.
Did you enjoy the experience, despite it being nerve-wracking?
I was actually proud of myself after I got that done.
Would you do it again?
Maybe (laughter).
How did you feel about writing and sharing work with other people, especially in the workshop environment?
Oh, now that was fun! I really enjoyed that, just hearing everyone's stories. That also gave me the opportunity to get to know that person too. Even though the group had people that I'd see on Tuesdays, some of the people…[it was] just really unique to see and hear everyone's stories and how they look at some of the questions, some of the prompts.
Did it change the way you thought about writing?
Yeah, actually. There are multiple ways you can look at a prompt and actually decipher it. I really liked that. It was one of the things that I really enjoyed.
So what were some of the other specific things you felt you got out of workshop?
I think one of them would be focus—focus on the prompts. Trying to figure out how you're going to write, what the prompt means to you. That is the one thing I could say.
What was your favorite part about being in the workshop?
My favorite part about being in the workshop was hearing everybody read their work. I really enjoyed that.
Are there specific things about the workshop you would recommend to someone else?
I would definitely recommend Write Around Portland because it helps with staying focused. You hear other people's work and you socialize with other people who care about writing. That's what I've always liked about it.
So what's next for you?
There's a couple of stories I'd like to do actually—the story about my dad's banjo…the other one would be a story about my sister's cat that she got during 1987 or '86. Those were a couple of stories I was thinking about. There's a big list. I really like my stories. My mom is proud of me that I went up and talked,  read my story aloud at the front and got that story published.
What would you say are some of your favorite things about being published in the anthology?
I really like the fact that I have something that is in a book. Because I have always dreamed about my stories getting published. My writing has improved over the years. This is a great opportunity.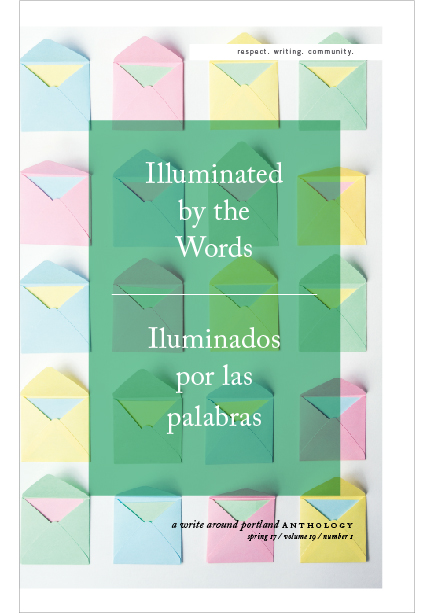 Publications
Write Around Portland publishes and sells anthologies of participant writing at the end of each season of our free workshops in partnership with community organizations. These professionally-produced books provide participants – many for the first time – the opportunity and satisfaction to see their words in print, while providing the public the opportunity to read powerful stories and diverse voices.
 
Books are available for purchase for $12 at local bookstores and through our office (plus postage and handling, if mailed). Some anthologies may be found at Multnomah County Library branches. Call us at 503.796.9224 for more details.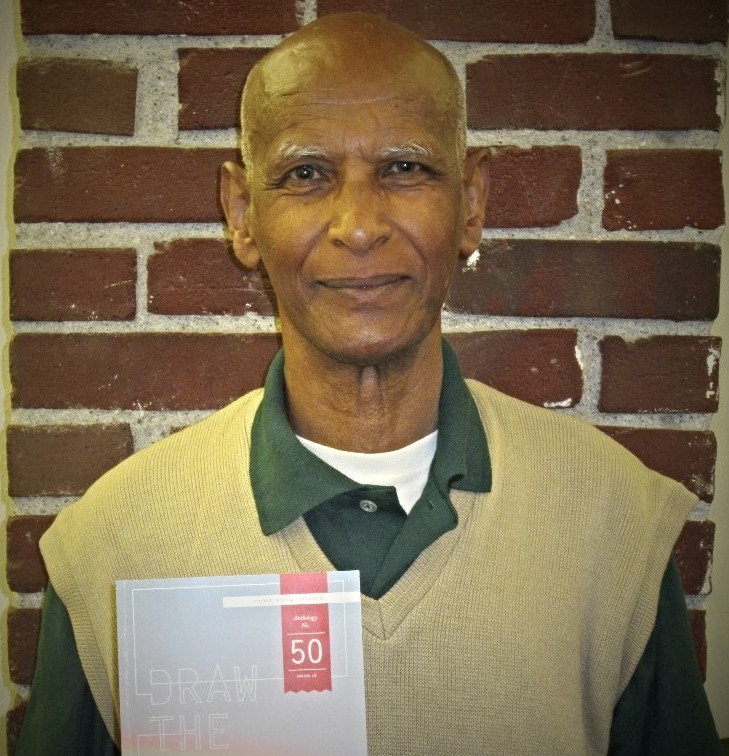 Past Featured Writer Interviews