 Generations
by Jodi G. Parker
The two of us stayed at the edge of the field, holding hands
as young lovers would do, away from the throngs of cheering
students and parents, insecure in our awkward attempts to be.
     You see, holding hands in high school was denied to young gays
in my little town and had carried through my long life.
     This time, this time I will hold hands, sweetly and openly I will
hold her hand!
     How scary was it that the occasion lent itself at my handsome
grandson's soccer game. As he and his chums swept the field with
their handiwork and mad fútbol skills, they ran and played on the
yards of yesteryear. I could close my eyes and hear them chasing
the ball around the backyard, scoring goals and cheering all the
plays.
     As they walked off the field with the taste of winning on their
breath, he proudly walked his friends over and introduced my
lover and I to all.
     My how times have changed.
© 2018 Jodi G. Parker & Write Around Portland, from our 54th anthology, A Wonder I Can Hold
Interview with Featured Writer Jodi G. Parker
Interviewed by Write Around Portland facilitator Ed Kline.
Jodi Guetzloe Parker, 57 (and days away from being 58), is a neck-down, union laborer with dirt under her nails. Born in Longview, WA, she spent her formulative teenage years trapped in Idaho. She moved to Vancouver in 1982, and found The Alano Club of Portland soon after. Jodi participated in our spring 2018 workshop at Alano Club for adults in recovery. She's proud to be a part of Alano and feels blessed to be here.
How did you first hear about Write Around Portland? What drew you to joining the workshop?
I heard about Write Around Portland through the Alano Club Facebook page. I was curious because I wrote little stories as a kid, but that went away with the demands of single parenting. I was a little afraid, but I was curious to see if that little kid could still write something.
What was your experience like in the workshop?
It was amazing. Very freeing. Every week I would just come home elated. It was like driving a fast car, listening to everyone else read. It was exhilarating.
It opened my eyes because I wrote about friends, ex-lovers. Poetry came out of me – stuff I didn't even know was there.
How did you feel about reading at the anthology release party?
It was very frightening, but it was also very honoring. After every reader, everybody cheered each other on. Of course, I cried when I read – good tears, you know – but others cried too. The applause, to my ears, was thunderous.
How did you feel about being published in the book?
I'm proud to be published. It surprises people when I tell them I'm in a book. I kept one copy to myself, but I gave some away too. I gave a copy to a friend of mine who works with kids who are falling through the cracks. I gave one to my daughter and one to my friend who told me I had a book in me. I didn't believe her, but here I am.
How did you feel about writing and sharing with other people? Hearing others' stories?
I love listening to every writer when they offer up their stories. I'm usually on the edge of my seat and my eyes are closed and I'm just taking it in. I've got this friend who's a painter and she's writing with us now and her words are like paintings.
And even if I think everything I write is an embarrassment, other listeners tell me about my imagery and my writing and the emotions, and it surprises me.
What specifically did you get out of the workshop experience?
I think I stood a little taller. I got some self-esteem. And I take that into the world with me. I stand up to bullies a little better. I'm a little bolder.
What was you favorite part of the workshop?
I love the sense of community. We're all in this together. When you sit in there and watch everyone come in through the door, and I love to see them all come in and I know we're in for a rocking good time.
Would you recommend Write Around Portland to other people? If so, why?
Yes, and I do! I want others to have that release. I want them to experience it because it's been amazing for me. I'd love for everybody to do this. I would just like to see this program go on forever.
Jodi also participated in our Fall 2018 workshop at Alano Club. Her next piece will be published in our 55th anthology, Awake in Waves. Come hear her read at our Community Reading and Anthology Release Party on Thursday December 6th!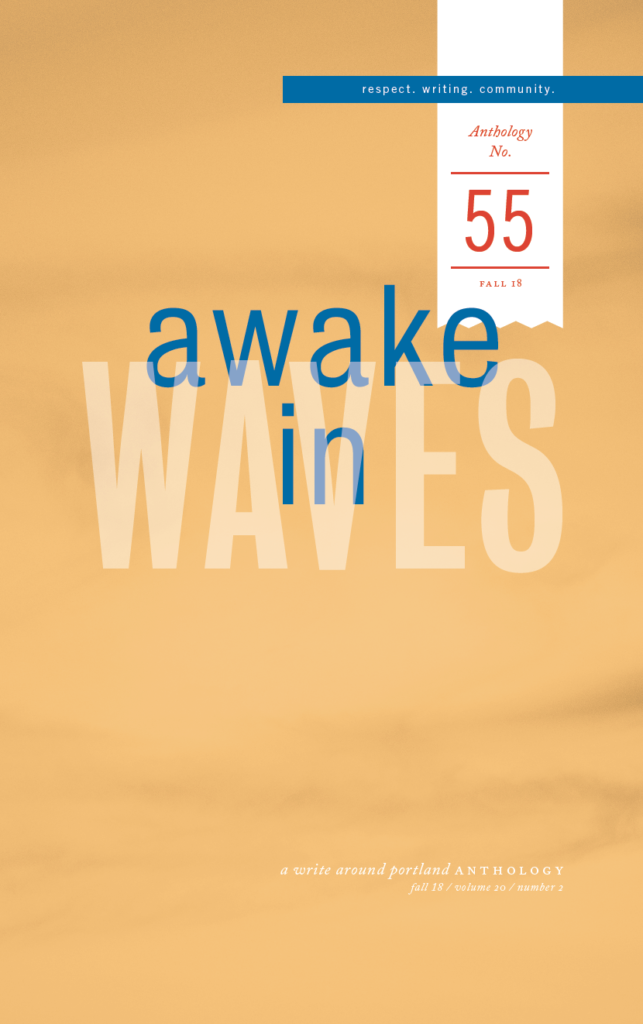 Publications
Write Around Portland publishes and sells anthologies of participant writing at the end of each season of our free workshops in partnership with community organizations. These professionally-produced books provide participants – many for the first time – the opportunity and satisfaction to see their words in print, while providing the public the opportunity to read powerful stories and diverse voices.
 
Books are available for purchase for $12 at local bookstores and through our office (plus postage and handling, if mailed). Some anthologies may be found at Multnomah County Library branches. Call us at 503.796.9224 for more details.