 Live Life with Heart
by Faith Skylar Weis
     To live life with heart,
Is to never let go.
     To help those in need,
and those who need a link,
     A link to what life is,
to understand the consequences
     good and bad.
Live life with heart,
     is to be kind to everyone
Even if they are rude to us
     We all work on something,
It is a part of growing up,
     Live life with heart,
is to look at life with
     color. For they bring
wonder and destination,
     to all that believe.
So don't give up there's more
to that but know it's up to
you to live life with heart.
© 2018 Faith Skylar Weis & Write Around Portland, from our 54th anthology, A Wonder I Can Hold
Interview with Featured Writer Faith Weis
Interviewed by Write Around Portland volunteer Jacqueline Novet.
A senior in high school, Faith enjoys a spectrum of expressive pursuits. In addition to running, dancing, drawing, and songwriting, she also is a heartful, determined, and enthusiastic writer working on her third novel. Faith participated in our Spring 2018 workshop at Albertina Kerr in Hillsboro for youth living in Albertina Kerr group homes.  
Tell me a little about your writing.
I love to write! I started writing when I was very young and my parents got me a journal that said "Have Faith" on the cover. I used to write out of heartbreak. Once, when I was listening to a song called Don't Look Back, I drew a sketch of what I imagined heaven to be and wrote a story from that. And that's when the deeper thoughts of my stories and songwriting turned to hope. I write for hope.
What led you to participate in a Write Around Portland workshop?
I've done this twice. A friend got me to do it [the first time]. She said, "You're gonna love it!" She met me there and said, "Now you sit down. I'm gonna leave. And have fun!" When I found out [in November] that she had died from suicide, I stopped writing. I thought I was going to stop writing forever. The poem [from the second workshop] Live Life with Heart was dedicated to her.
There's so much wisdom in that piece. I love the words "wonder and destinations".
I have destinations. That's why I wrote that. One of my hopes and destinations is that I'll be able to prove to myself that I am ready to follow my path, learning from my mistakes along the way. That's what living life with heart is about. Who cares about the mistakes? It's learning from mistakes that counts.
Tell me about your favorite part of the workshop.
The laughter. It brought me back to my center.
If I were to ask you to tell me a story in 30 seconds about your workshop experience, what would you say?
Well… as I walked to Write Around Portland I noticed the walls seemed to shine brighter than usual. I saw a crazy little girl with flowing hair, tips orange on the bottom, with an orange dress and a black shirt dancing around, saying, "You made it! You made it! Now sit down." I look around and see my friends, some kids that I don't know; and as I sit down, she runs out the door into the night and is gone. I hear staff in the other room laughing like a dying herd of hyenas. I realize that this is where I would like to be. The seat is comfortable underneath me. The pencil feels like it belongs there. The laughter echoes from sunset to the ocean to everything that I enjoy before dying slowly, with the last hiccup of what sounded like a cough. We all started writing, and the last thing I heard was the sound of people munching on cookies and their pens flowing like magic.
What was it like for you at the anthology release party?
It was nerve wracking! I mean, I wasn't used to it. But as I finished reading the piece and walked away, I got three hugs from people I didn't even know and one said, "I wish I had written that."
What would you say to someone who is thinking about attending a Write Around Portland Workshop?
Do it! I didn't know if I'd like it, but I loved it. I've never felt so alive!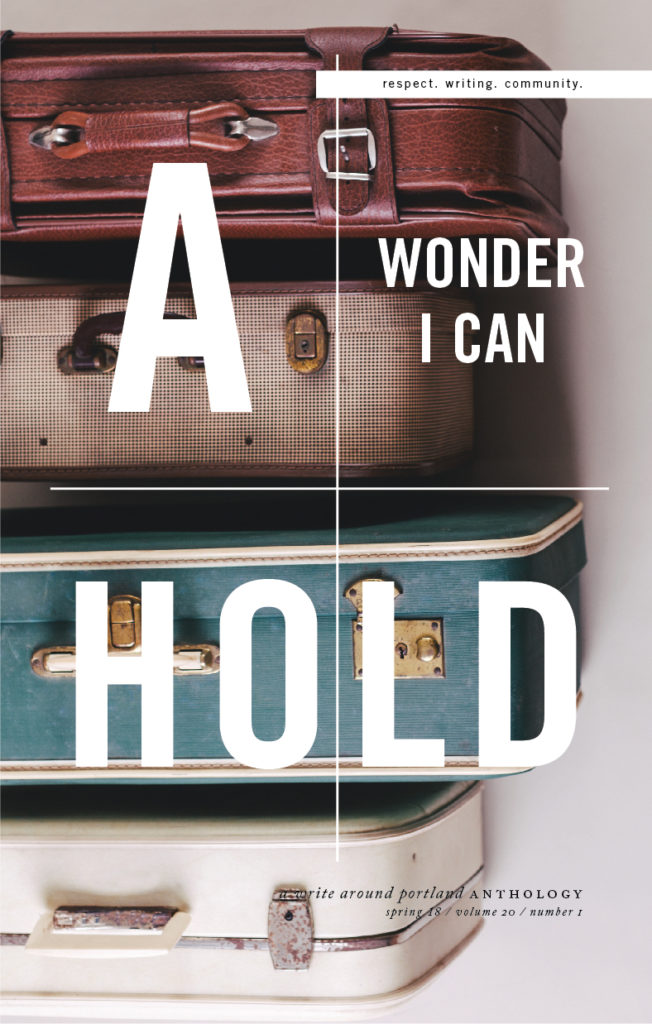 Publications
Write Around Portland publishes and sells anthologies of participant writing at the end of each season of our free workshops in partnership with community organizations. These professionally-produced books provide participants – many for the first time – the opportunity and satisfaction to see their words in print, while providing the public the opportunity to read powerful stories and diverse voices.
 
Books are available for purchase for $12 at local bookstores and through our office (plus postage and handling, if mailed). Some anthologies may be found at Multnomah County Library branches. Call us at 503.796.9224 for more details.