 Tasteey
by David B.
The color of blue left a sensational taste inside my mouth. I can't wait to try the rest of the colors. Green is what I look forward to most because it's not the favorite color of anyone that I know. It stands alone. I know the color of green should taste delightful—it should be as extravagant as wealth, and also should be good for my health. As the taste of blue subsides, I open wide and put green inside. It was the best color so far that I have tried. It was so good, I almost cried.
© 2018 David B. & Write Around Portland, from our 54th anthology, A Wonder I Can Hold
Interview with Featured Writer David Boston
Interviewed by Write Around Portland volunteer Michael Montoya.
David Boston, 30, is from St. Louis. He loves to write and think fiction. This spring he participated in our writing workshop at The Apartments at Bud Clark Commons for adults living in supportive housing in Old Town Portland. David was inspired by other workshop participants and found what came up spontaneously from the prompts astounding.
How did you first hear about Write Around Portland?
Staff at BCC [The Apartments at Bud Clark Commons] knew that I liked to write and had a huge interest in literature. So they invited me to participate.
What was the experience like in workshops?
Each Tuesday, we would meet for over 2 hours. [The facilitator] would give us prompts and we would provide our dimensional creativity and share it. One particular class I remember pictures and all sorts of objects. I hadn't done that kind of writing before. It was definitely fun and it expanded my imagination so to speak. Multiple dimensions, it was definitely challenging. It gave me something to look forward to.
How did it feel reading at the anthology release party? How did it feel to be published in the book?
I feel a huge sense of accomplishment, even though I've been writing since I learned to read, it was astounding.
How did you feel about writing and sharing with other people? Hearing their stories?
It was inspiring because most of the others weren't writers. To see them come up with something due to the prompts was very interesting. Sharing made it exciting to participate. Before the workshop, I had never read my writing out loud. I got rid of the butterflies. And it was OK that I had experience as a writer. It was something that motivated the group to go further into it. It was a two-way street. Their stuff motivated me.
It was one big exchange of motivation, how it all came together. It built relationships. At first, I didn't have any relationship with my neighbors. So it was a good thing. I still have those connections.
What do you think you gained from the experience?
It gave me the opportunity to not just meet people, but it gave me a renewed passion for writing, inspiration, and a bond amongst the group. It opened me up 'cause I'm an introvert. I have a hard time interacting with other people. To share my work and listen to others, because we had this one thing in common, 'cause that is hard for me, but I found people with whom I shared something. I absolutely gained confidence. It definitely showed my skill in writing and helped me break writers block on the spot. I didn't think I could. It gave me patience 'cause the workshop gave us time to collect our thoughts and prove we could do it. So it becomes something more. "The color green" was the prompt for Tasteey.
What was your favorite part of the workshop?
My favorite part was listening. The workshop also gave us something productive to do. Something to look forward to. We were all coming from different walks of life and we came together for the sake of writing for these couple hours. We all have our problems and issues, but in those two hours we could just focus in on our deep inner creative side. I could forget about the world around us. We never knew how our brains were going to unfold. I mean, "I wrote this from THIS!?" And people were giving me positive feedback and it made people think about what I had just written? Astounding!
Would you recommend Write Around Portland to other people? If so, why?
Absolutely! I feel like if they have an interest in writing especially they should do it. I am so thankful for Write Around Portland and appreciate the fact that they gave me something to look forward to. At that point, I had lost motivation and this got me back into the spirit of writing.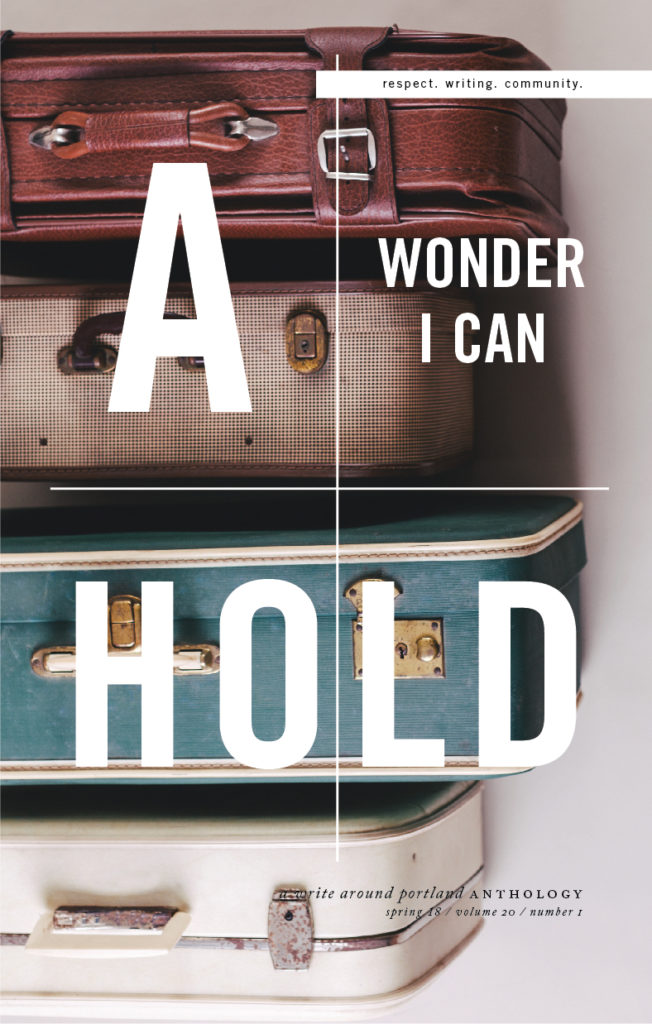 Publications
Write Around Portland publishes and sells anthologies of participant writing at the end of each season of our free workshops in partnership with community organizations. These professionally-produced books provide participants – many for the first time – the opportunity and satisfaction to see their words in print, while providing the public the opportunity to read powerful stories and diverse voices.
 
Books are available for purchase for $12 at local bookstores and through our office (plus postage and handling, if mailed). Some anthologies may be found at Multnomah County Library branches. Call us at 503.796.9224 for more details.