 If you wish to request an accommodation, please contact us one week before the scheduled event.
20th Anniversary Calendar of Events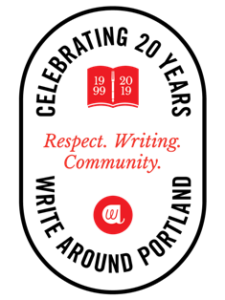 2019 marks Write Around Portland's 20th year! We hope you'll mark your calendars and join us in the celebration.
Community Readings
Twice a year, in May and December, Write Around Portland holds readings featuring participants in our free community writing workshops. Our readings promote respect for diverse groups and provide an opportunity to hear the powerful stories of gifted writers in our workshops. Few Portland events include so many diverse voices.
This year we are celebrating 20 years of writers! We'll have cake, an anthology retrospective to share and new pieces from our 2019 workshop participants.
Readings are free, ADA-accessible and open to the public.
West Side Community Reading and Book Release Party
Thursday, May 16 from 6:30 to 8:30 pm at First United Methodist Church, Collins Hall, 1838 SW Jefferson St, Portland, OR 97201
Featuring writers from workshops at:
• The Alano Club of Portland • Albertina Kerr, Hillsboro • Boys & Girls Aid, Safe Place for Youth • Harsch Investment Properties, 1200 Building • Home Forward, Gallagher Plaza • Home Forward, Medallion Apartments • Home Forward, Williams Plaza • Innovative Housing, Erickson Fritz • LifeWorks NW, Adolescent Day Treatment Program • Maybelle Center for Community • New Avenues for Youth
First United Methodist Church is located at the corner of SW 18th and Jefferson St. at the Goose Hollow MAX stop and near a number of TriMet bus stops. There is also limited onsite parking available.
Books will be available for purchase. Free guided playtime for children is provided.
Raise Your Pen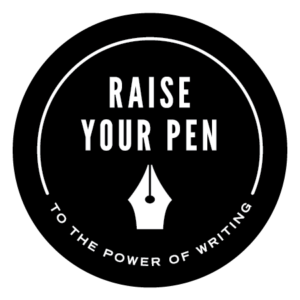 Thank You!
A huge thank you again to everyone who was able to join us for and donate to Raise Your Pen last week! Thank you for raising your pen to the power of writing! 
Together we raised more than $75,000 to continue bringing creative writing workshops to adults and youth in shelters, prisons, hospitals and social service agencies. 
Save the date for Raise Your Pen 2019 on October 11th!