 Community Readings
Twice a year, in May and December, Write Around Portland holds readings featuring participants in our free community writing workshops. Our readings promote respect for diverse groups and provide an opportunity to hear the powerful stories of gifted writers in our workshops. Few Portland events include so many diverse voices. Readings are free, ADA-accessible and open to the public.
Join us for a Community Reading & Book Release Party this Spring 2022!                        

When: Sa
turday, June 4th at 2pm
Where: The Yard at Taborspace, 5441 SE Belmont St, Portland, OR 97215
Cost: Free!
This will be our first public event since before the pandemic! Bring your friends and family to hear writers read their work from the last two years of remote and in-person workshops. These powerful pieces will be featured in our latest anthology, Gold and the Dust – copies will be available for purchase at the event! 
We are asking attendees to wear masks while seated and we'll provide options for distancing. Doors open at 1:30pm. Please contact us at least one week prior to the event to request any additional accommodations.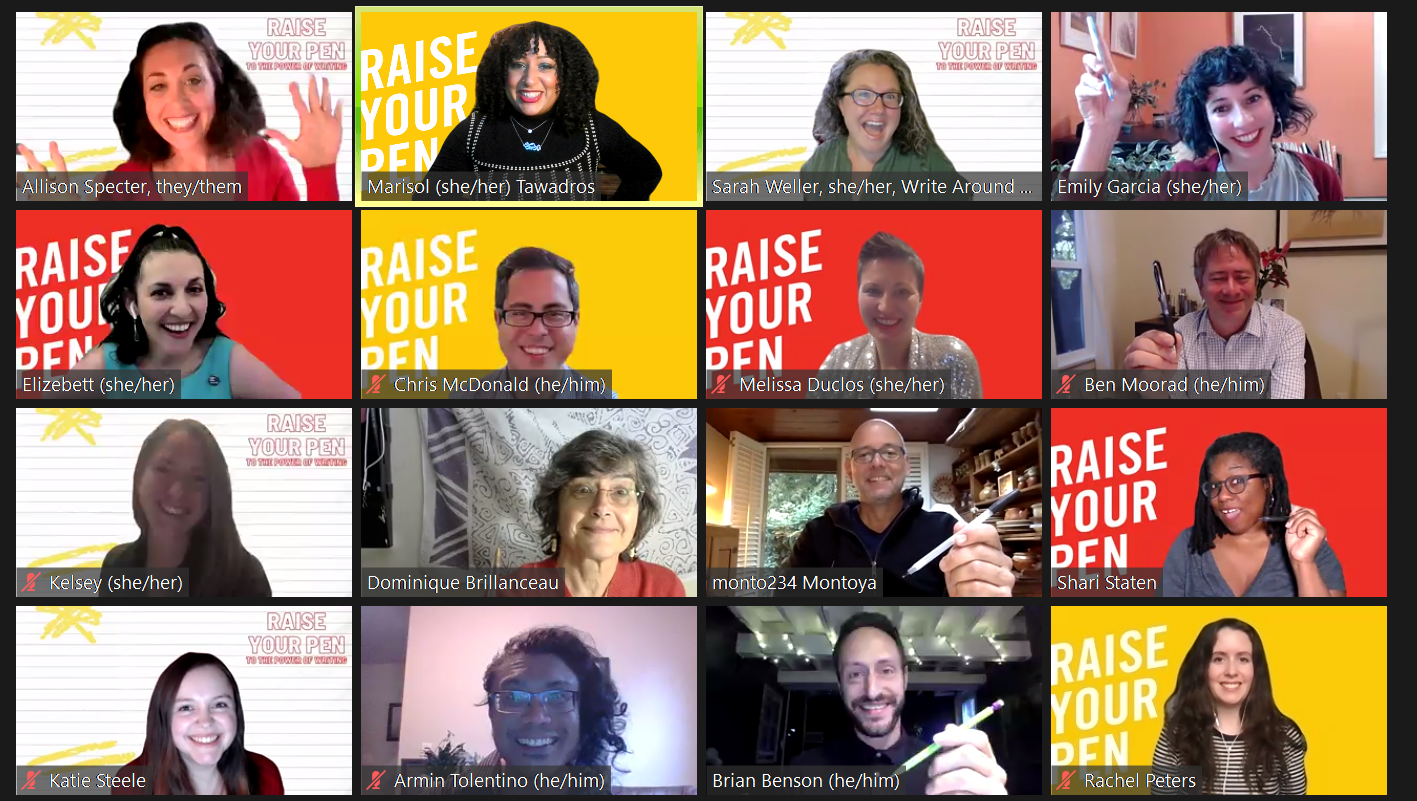 Raise Your Pen
Thank You to Everyone Who Cozied Up to Join Us for Raise Your Pen!
Thank you again to everyone who joined us for our virtual 2021 Raise Your Pen event! We heard from Write Around Portland writers; wrote together in small groups led by our trained facilitators; heard from slam poet and Write Around Portland Board Member Marisol Tawadros; and felt inspired by the power of writing to connect us and heal us. Together, we surpassed our goal and raised $48,300 to support mental health, reduce isolation and amplify stories we need to hear. 
One attendee shared, "I didn't know how much I needed that," and we couldn't agree more!
 Seeing our community come together was revitalizing, energizing and connecting.   
Relive the magic by checking out the event videos on our 
YouTube channel
. There you will find: 
Thank you for your belief in the power of writing to create a kinder world built on respect.